Euro 2012 Qualifiers : Portugal beats Bosnia and Herzegovina 6-2 to qualify for 2012 Euro
LISBON, Nov. 15, 2011 (AMP) — Poland Ukraine 2012 (Qualifiers) : Portugal defeated Bosnia and Herzegovina by a big score of 6-2 (halftime: 2-1), in the second leg of a qualifying game on Tuesday night. Portugal, who tied 0-0 in the first leg, secured their ticket to the Euro finals. Bosnia and Herzegovina is eliminated.
Fixtures and Results : Play-offs
22624
Overview
Portugal at the Euro
5 appearances (first in 1984)
14 participations in the qualifications (first in 1960)
Statistics: Runners-up (2004)
Bosnia and Herzegovina at the Euro
Never qualified
4 participations in the qualifications (first in 2000)
Portugal

6:2

Bosnia and Herzegovina
6:2 (2:1)
15 November 2011
21:00
Lisbon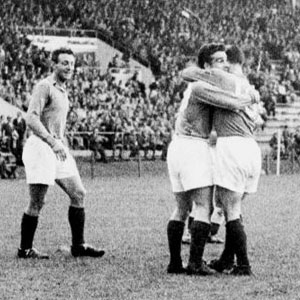 Read on to know more on the history and origin of the UEFA European Championship.