Brazil beats Germany in shoot out to win 2016 Olympics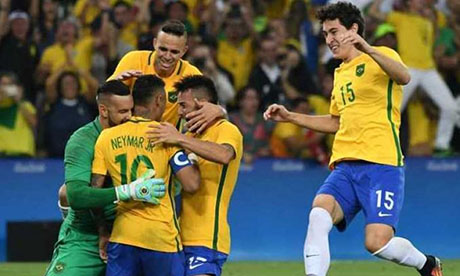 RIO DE JANEIRO, Aug. 20, 2016 (AMP) — Rio 2016 : Brazil claimed the Olympics crown after defeating Germany 5-4 on penalties (after a 1-1 draw) in the final on Saturday afternoon at the Maracanã Stadium in Rio de Janeiro.
The score was still 1-1 at the end of the regulation game time and overtime, after goals from Neymar ('27) for Brazil and Meyer ('59) for Germany. The Brazilians finally emerged the victors in the penalty shootout session by winning 5-4.
Fixtures and Results : Second stage
56462
Overview
Brazil at the Olympics
13 participations in the qualifications (first in 1952)
Statistics: Runners-up (1984, 1988, 2012) Third Place (1996, 2008) Fourth Place (1976)
Germany at the Olympics
10 participations in the qualifications (first in 1912)
Statistics: Third Place (1988) Fourth Place (1952)
Brazil

1:1

Germany
5:4 (penalties), 1:1 (a.e.t.), 1:1 (1:0)
20 August 2016
17:30
Rio de Janeiro